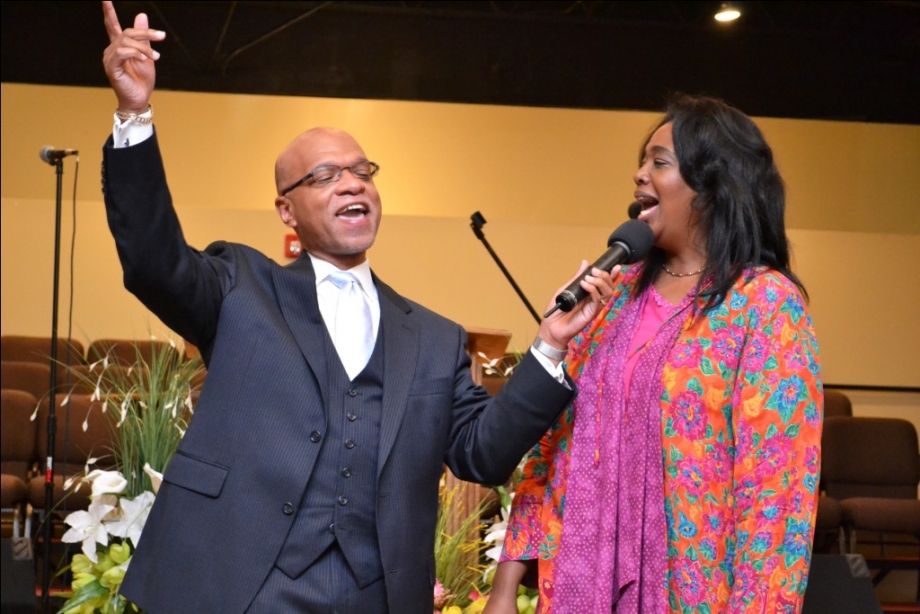 Pastor Tommie A. Harsley III and First Lady Vanassa P. Harsley
Pastor Tommie A. Harsley, III
The only real shepherd we have is Jesus Christ.
Next, Jesus has gifted individuals to lead his s
heep. These people have the heart of the great shepherd – Tommie A. Harsley is such a Pastor. H
e is
a man of compassion, faith and prayer. His approachable demeanor invites all to share the love of God and his transforming power.
"And he gave some, apostles; and some, prophets; and some, evangelists; and some, pastors and teachers; For the perfecting of the saints, for the work of the ministry, for the edifying of the body of Christ:" Ephesians 4:11-2 KJV

Before the foundation of the world this was Pastor Harsley's calling and his life has prepared him for the same. Born in Chicago, IL and the son of a preacher, he was baptized in the name of Jesus and filled with the Holy Ghost as a youth. Initially ignoring the call to preach, he focused on his career aspirations. He has an extensive background in ministry service including, teacher, preacher, board member, clergy council member, deacon, and church organist. He has been a Bible teacher all of his adult life and in 2001 was ordained as a minister. His dexterity in the Word is a reflection of his passion as a student of God's Word.

He is married to his best friend, confidant, and love of his life - Vanassa P. Harsley. They founded Grace New Covenant Church in 2006 and he was the first organist for the church.

His commitment to the principles of Christianity is depicted in his lifestyle. The grace of God speaks volumes in the life of this strong anointed leader, preacher with humor, and kind gentleman. While accomplished in many areas he extends himself as mentor for many young men and students of the Word and legal practice. He loves and respects people and is deeply loved and respected by the Grace New Covenant Church family.

Since the inception of the church, Pastor Harsley has a dual vocation as Pastor and Lawyer. He has practiced law in the states of Missouri and Illinois for over twenty years. He is a meticulous preparer and a persuasive courtroom advocate and has obtained substantial recoveries for numerous clients. His reputation is one of integrity and competence throughout the community. Additionally, the Law Office of Tommie A. Harsley has extensive experience in forming and advising nonprofit organizations and churches. Over the years, he has provided counsel, training, and legal assistance for pastors, leaders, and laypersons in the nonprofit sector. Pastor Harsley earned a Juris Doctorate from Washington University School of Law in 1987. He is a candidate for the Master of Divinity at the Covenant Theological Seminary.

He and his wife Vanassa have three adult children.
Visit
www.taharsleylaw.com
for more information on the Law Office of Tommie A. Harsley III.
Facebook
Twitter
LinkedIn
Google+
In Loving Memory of First Lady Vanassa P. Harsley
Vanassa
P. Harsley, the leading lady of Grace New Covenant Church, is passionate about the vision of "transforming the lives of people, families, and communities". As a team united in purpose, she works diligently in ministry with her husband, Pastor Tommie to realize the vision. Baptized in Jesus name and filled with the Holy Ghost as a youth, her history in ministry service is significant. Her reputation is that of a dynamic leader with a profound love for people.
Her kindness, grace, and simplicity enable her to connect and share God's love with children through senior citizens. She is an anointed worship leader, gifted administrator, faithful intercessor and a blessed woman of God with many professional and personal accomplishments. The power of God is clearly evident in the life of Lady Harsley as she interfaces, teaches, and ministers to people through word and song. Her boast is in God that changed her life through salvation and brought miraculous healing from complete renal failure.

She is an academic scholar and has a noteworthy education and professional background including graduate certification in Leading and Managing Nonprofit organizations. Vanassa Harsley is the founder of Covenant Generation, Inc., a non-profit development organization for youth. She was born and raised in St. Louis, MO and is the blessed mother of three adult children.
Visit www.covenantgeneration.org for more information on Covenant Generation Inc.